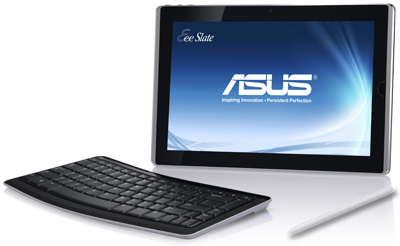 What is the Asus EP121?
The Asus EEE EP121 tablet/slate is a great multi-purpose device.
For artists, it has a 12″ wacom screen that has 256 levels of pressure sensitivity.
For people looking for a tablet or new laptop, it is a lightweight, relatively high resolution full windows device, with bluetooth hardware keyboard, that accepts up to 10 finger multitouch. Use it as a tablet, use it as a laptop, the power to do both!
For hardware buffs, it has a 1280×800 touch(capacitive) and pen sensitive (electromagnetic) input screen, with potentially a 64GB SSD (solid state hard drive), 4GB DDR3 ram, 802.11n/g/b wireless, 4.5hr battery, stereo sound, 2x usb 2.0, 1 mini HDMI port, and a 2MP camera.
An in depth review of my experience using it as an art tablet and a laptop+ conventional tablet follows.
Finding a new laptop/ art pad tablet / Cintiq
I have been looking to upgrade from my wacom Graphire 3 (same as higher end bamboo) art drawing tablet for several years.
I have been looking at the Intous4 line, as well as trying to find cheaper alternatives to the Cintiq's, since I still have a bit of a disconnect drawing on my desk, while looking at the screen.
I recently found the Asus EP121 on amazon, with an exceptionally high rating, and specs sounding to good to be true.
I looked online and couldn't find any, and no stores carry them locally, from their websites, but finally found them at Fry's electronics, but it can only be found on their website by looking up 'Asus slate'.
Asus EP121 Specifications

Processor: Intel Dual Core i5 CPU (1.3ghz, 1.86ghz max turbo, 3MB L# cache)
Memory: 2GB or 4GB DDR3 (I got 4GB)
Hard Drive 32 GB or 64 GB SSD! (I got 64GB)
Screen: 12″ LED 1280×800 Screen with 256 levels pressure pen touch AND 10 finger capacitative multi touch
Battery Life 4.5hrs (standard use) 2.4hrs (heavier/ video playing straight use)
It also comes with a nice wireless Bluetooth keyboard, Leather(ish) case with stand to prop up in landscape and portrait orientation, 2.0M front facing camera, stereo speakers, Mic, 2x USB 2.0 ports, 1 MINI HDMI port, card reader, 5 extra nibs/tips for pen, 802.11n, b,g wireless, Bluetooth 3.0, Windows 7 (with tablet tools), ect.
Experience so Far
So far I have used it for drawing in photoshop, watching movies/ tv shows, browsing the web, playing plants vs zombies, world of goo, angry birds PC.
Drawing with the EP121

I'm no great artist yet- created in photoshop with a standard brush
The first thing I did (since I've been waiting so long for a Cintiq) is try to install photoshop on it. The adobe suite REQUIRES a minimum resolution of 1280×1024 to install their software, so it won't install by default!! I ran into this with other somewhat lower resolution netbooks/laptops, and the trick to install it is to plug in a higher resolution monitor, so it sees the higher resolution monitor, installs, and you can unplug the monitor.
Issue is- the tablet has a newer port found in phones and cameras called a "MINI HDMI" port, so you'll have to have a mini HDMI to HDMI (male-male) cord (and a monitor/ tv with a good enough resolution, and HDMI in) to install the adobe suite. ADOBE FAIL 😉
Once it is installed though, it runs great! There is more than enough screen real estate, and this really isn't a "low resolution device", but in fact fairly high given the size of the screen.
Adobe photoshop worked as fast as my desktop, (quad core 2.6GHZ@ 3.5GHz with 6GB ram), and so I completed a sketch using the tablet. Almost makes you feel like you're drawing on paper- very responsive.
One thing to note- When drawing, I kept having my hand touch the screen, which it also picks up as input. You can temporarily turn of finger input in the control panel, so you only have to worry about the pen.
The pen is lighter and slightlier smaller than the bamboo white pen I use for my graphire3. It also has an eraser built in , which works just like any other wacom eraser. It does lack any buttons (such as for right clicking), but I have seen forums online where people have found cheap ($12) pens that work with it that give you the double click (though they may not fit into the EP121's build in storage compartment for the pen).
Movies and Web Browsing
The screen is very nice on the EP121. The viewing angles are great- with head on being the brightest, and even almost completely from the side still being visible.
Web browsing is good- fast on my wireless n, and it really is a full computer, so you can see everything- no different then any other desktop.
One issue I did have was that windows 7 isn't quite as sleek a interface as android is for browsing with your fingers. Many times I tried to swipe down the page – where I end up highlighting text instead. just using it like amouse, and grabbing the scroll bar was smooth, so it's just something to remember when switching from your mobile browser to the tablet.
Games
This doesn't have the newest processors (Sandy) with the GPU built into the cpu, and it does not have a dedicated graphics card, so I was worried it would suck in this department. I played a few well rendered 2d games (world of goo, plants vs zombies) with no problem, and they felt much nicer playing using your hand then a mouse, more as if you are actually interacting with the game world.
Spore worked in the highest graphics settings for the cell level, but had to be turned down to medium for the land level. GTA IV had artifacts in the starting game intro, which kind of sucks (2008 game).
Should You Buy This?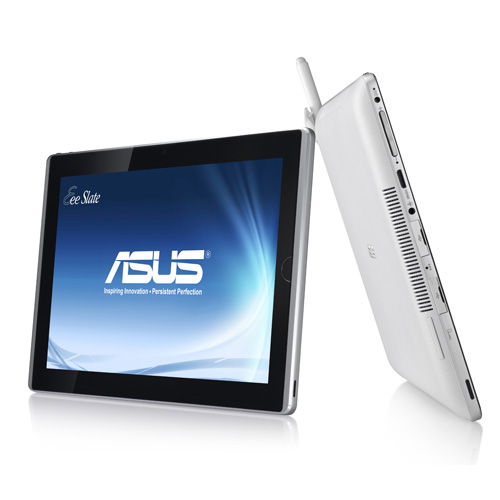 Want a new art tablet/ Cintiq, but would like it portable, and to be a full computer? Get this.
Want a tablet that you can actually use for all your programs, full windows, good screen size, and make the Ipad1,2, or probably 7 users cry and shake their useless tablets in the air? Get it!
Conclusion
This really is a great multi-purpose device, well yet still being great at each thing it does.
Great Laptop. At 2.5 pounds, 12 inches, full windows 7, solid state hard drive, wireless keyboard, no lag/ good performance, this is a good laptop on it's own.
Great Tablet. This browses the web quickly, you can view the 'full web' (flash), games work on it, you can dual boot with android, and the touch screen is responsive.
Great Cintiq/ art tablet/ Cintiq alternative. With a wacom pen/screen, 256 levels of pressure, being able to draw directly on screen, and have all your windows programs run, as well as being portable (unlike the Cintiq screens), it seems to be a great Cintiq alternative
Possible Improvements
Better video card. Would have liked to see the Sandy bridge in this(with built in GPU), or a dedicated graphics card for some intense gaming. It's nitpicking, since the device does what it is built for so well, plus so much more.
Tilt sensing Pen. I don't think that the pen senses the tilt- which the Intous do, but I don't think it's much of a big deal, since my drawings still look the same on paper as on the Cintiq – All I really need is the pressure sensitivity.
Bigger, thinner screen. 😀 This is more for me- The 12″ is already bigger than most tablets (7″-10″ normally), but I like big screens. The screen is only about .5 inches thick, but would feel like more of an engineering marvel slightly thinner. Also a slightly higher resolution would ensure that Adobe Suite doesn't need an external monitor just to install (Adobe's fault though)