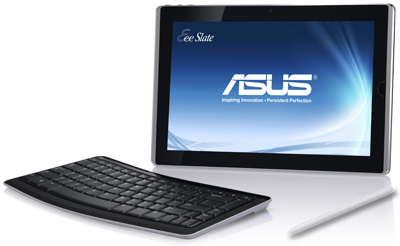 What is the Asus EP121?
The Asus EEE EP121 tablet/slate is a great multi-purpose device.
For artists, it has a 12″ wacom screen that has 256 levels of pressure sensitivity.
For people looking for a tablet or new laptop, it is a lightweight, relatively high resolution full windows device, with bluetooth hardware keyboard, that accepts up to 10 finger multitouch. Use it as a tablet, use it as a laptop, the power to do both!
For hardware buffs, it has a 1280×800 touch(capacitive) and pen sensitive (electromagnetic) input screen, with potentially a 64GB SSD (solid state hard drive), 4GB DDR3 ram, 802.11n/g/b wireless, 4.5hr battery, stereo sound, 2x usb 2.0, 1 mini HDMI port, and a 2MP camera.
An in depth review of my experience using it as an art tablet and a laptop+ conventional tablet follows.